About Us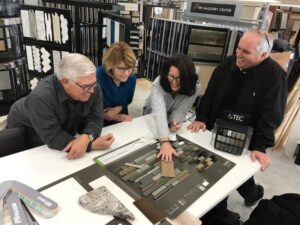 The White Pine Builders family has been in construction, both personally and professionally, since 1980. Professionally, Cory has over 35 years of experience in the roofing wholesale distribution industry. Cory makes it a priority to work with the contractors, manufacturers, and city inspectors to ensure all state and local codes are passed. He was and always will be at the job site overseeing all facets of home-building and remodeling.
Personally, Cory and Maria have remodeled four of their own homes over the span of 20 years. They would take on extensive remodeling projects; doing the majority of the work themselves or hiring out subcontractors to help complete the tasks. In 2010 Cory and Maria found a new passion for purchasing dilapidated homes and rebuilding them with modern twists and upgrades. The results were beautiful homes that only stayed on the market for mere weeks due to their design and exceptional value. One home, in particular, had 3 offers on the first day of the listing. The reason for this success was their attention to detail and their constant thoughts regarding features that the potential buyer would want. Design and functionality go hand in hand at White Pine Builders.
White Pine Builders continues to be one of the only companies that provide truly custom homes to the client. With the demand for custom new home construction continuing to rise, Marshall has joined the White Pine Builders family. Marshall is Cory's son who moved from the nursing profession into the building profession. Marshall loves that the building experience is all about the customers' wants and needs. This is something that he was very used to, being in the medical field for over 10 years.
Today, White Pine Builders have not wavered from that vision, delivering all of the WANTS that YOU, the homeowner, could imagine in the completely custom new construction of your single-family residential home. Given a chance, White Pine Builders will outperform your expectations from concept, to design, to the finished product with one goal in mind: Satisfying all your WANTS in your dream home. We are here to serve you to ensure that we are doing our best job on your behalf.